Protecting Those Who Protect Us
Military vehicles are used in the toughest, most rugged environments and terrain. Whether it's on base or in missions worldwide, maximatecc products ensure military vehicles deliver the versatility and capability military personnel need in all types of operations, from tactical missions to base support.
High-impact and corrosion-proof materials give operators every advantage and promote efficiency. Unique designs reduce exposure to battlefield dangers and vehicle performance in mission-critical settings, ensuring operator safety. Products are constructed to withstand extreme environmental exposure, intense shock and vibration, and dangerous temperatures.
Read the latest military news article here.
DATCON DDBI Heavy Duty Industrial Gauges
High-impact PBT, reinforced casing with hard coated, anti-fog lens
-40 to 85°C operating range, IP67 rating
Exceeds SAE standards for vibration (SAE J1810) and salt spray (SAE J1455)

HALT tested
Withstands vibration at 20 Grms, 0 to 2,000 hertz
Tested compliant with SAE J1455 humidity standards

Gauges go to zero brightness, with configurable LED backlighting for night vision and covert settings
Available dual scale options to translate readings for allied forces
Fully sealed and designed with a hydrophobic vent to adapt to temperature and humidity changes
Read the latest DDBI news article here.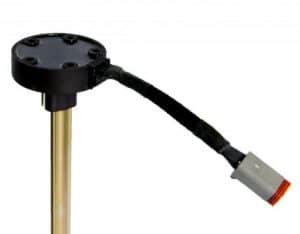 Available in lengths from 6 to 54 inches, plus custom designs
Ideal for vehicles with unique tank designs, can be mounted at up to a 45-degree angle
No moving parts; ideal for vehicles with deep tanks subjected to fuel slosh
Multiple Intellisensors can be used on one vehicle, connecting via configurable J1939 addresses to the same network
Use with all fuel mixtures (DF-1, DF-2, JP-8, JP-5 and Jet A), including seasonal or regional blends, fully configurable software allows multiplier configurations for precise fluid monitoring
Meets IP67 standards, with tank sealing at 6 PSI, vibration SAE J1810 and a temperature operating range of -40 to 85°C
Compliant with EMC standards for off-highway use
Electronic board potted in a secure pod ensuring a totally sealed system
Read the latest IntelliSensor news article here.
Need help with system specifications? Technical support questions? Our subject matter experts understand your application and are here to serve as a valued partner.