Direct Data Bus Instrument Gauges: Your Simple Solution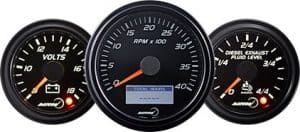 Looking for gauges with comprehensive capabilities? Try the maximatecc Direct Data Bus Instrument (DDBI 500) gauges for added performance.
Begin with our software configuration tool to customize the gauges to your specific application:
– Control backlight brightness
– Program the baud rate
– Modify key parameters, including:

– Low driver output
– Source address
– Failure alerts
– LED indicator triggers
– Inputs
– Display settings
You'll find our DDBI 500 gauges connect directly to your vehicle's bus network, with no need for an instrument controller or gateway device. The gauges detect the baud rate of your vehicle and adjust accordingly.
Easy to read and simple to use, the DDBI 500 gauges drop right into your J1939 network, no programming or tooling required. Based on gauge size, they can be configured with dual-color LED indicators. Many gauges have analog inputs in addition to CAN J1939, for an all-in-one solution. No extra black box computer hub needed.
Limited space? Our SAE J1939 DDBI 500 gauges are a straightforward solution. They come in two different diameters, with a low-mount footprint and a design that fits flush in tight panel compartments.
DDBI 500 gauges are made for the toughest conditions, from extreme cold, to heat and humidity. They are HALT tested and CE certified, exceed SAE standards for vibration and salt spray, and meet industry EMC standards.
To learn more, watch the Direct Data Bus Instrument (DDBI 500) gauge video or visit DDBI 500 J1939 Direct Databus Instruments – maximatecc.