Protecting military vehicles in any environment
Maximatecc products are tough and precise, two crucial factors for military vehicles. On base or in missions worldwide, Maximatecc products protect the occupants of military vehicles in any environment.
Tough design
A military vehicle and its occupants must work every day in the toughest, most rugged environment and terrain. Maximatecc products withstand this extreme environmental exposure, intense shock and vibration, and dangerous temperatures.
Our DATCON CAN J1939 and analog gauges are ideal for military vehicles in tactile theater conditions. They exceed SAE standards for vibration and salt spray, and are HALT tested for reliability. A hydrophobic vent allows the gauges adapt to temperature and humidity changes, plus they meet SAE J1455 humidity standards. Constructed from a high-impact thermoplastic compound, the gauges have a reinforced casing with a hard coated, anti-fog lens.
To ensure a longer lifespan, we construct the CAN Bus IntelliSensor from corrosion-proof materials, and it has no moving parts. The 100% sealed system with reinforced casings protects the electronic board from the environment, intense shock and vibration. The IntelliSensor also meets SAE J1810 vibration and electric noise standards.
Both products have a -40 to 85° C operating range and meet IP67 standards.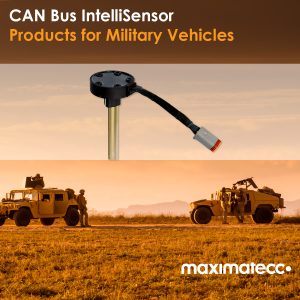 Precise and configurable
Products for military vehicles must meet exacting standards and unique specifications to give operators every advantage and reduce exposure to battlefield dangers.
Our CAN Bus IntelliSensor is a capacitance-based fuel sensor and has an automatic calibration feature, so it adjusts to any fuel mixture used in a military vehicle. The unique design also eliminates slosh effect on gauge readings, ensuring precise and accurate fuel information. Mount the IntelliSensor on a vehicle at up to a 45-degree angle and still get precise fuel measurement.
For covert settings, choose DATCON CAN J1939 and analog gauges for their configurable design, with LED backlighting that converts to kill lighting when used in night vision mode. Our gauges are available in dual scale options so they can translate readings for allied or NATO forces. Customize the face of the gauge for specific applications.
Need help with system specifications? Technical support questions? Our subject matter experts understand your military applications and are here to serve as a valued partner. Visit Military – maximatecc to learn more and connect with us.