Francisco Lopez: Teacher guides career path
The goal of National Engineers Week is to increase the understanding of and interest in engineering and technology careers. We asked some of our seasoned engineers about the influences that drew them to the field, memorable career events and their greatest challenges.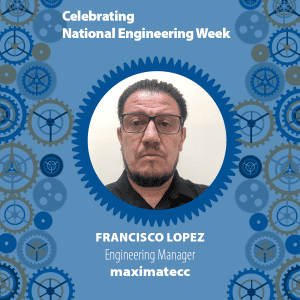 An engineering manager with maximatecc, Francisco Lopez said he first knew he wanted to be an engineer in high school, where math was his favorite subject. "I was going to be the first engineer in my family," he said. My math teacher, Mr. Faudoa, also was an engineer, and he really influenced my decision. He was a smart person and made the students be better. I liked what he did to get the best from students, pushing our limits to make us more efficient.
Lopez said his favorite part of his job is developing talent. "I like to coach the team members based on my experience," he said. "I feel satisfaction when I see young engineers mature, become more experienced and able to make big decisions."
Lopez described one of the most memorable events in his career. "After spending several months visiting a potential customer, my colleagues and I were able to establish a trusting relationship that turned into an opportunity," he said. "A new product was awarded to maximatecc, and the challenge was big. I managed the project, coordinating the hardware development and the electrical design. It was the first product successfully developed and launched by maximatecc for the Chinese market."
In his management role, Lopez said talent retention is challenging. "When I accepted this role nearly four years ago, I had to develop a team in Juarez, Mexico," he said. I worked to find talent or find engineers with potential to be developed. I now feel like I have a team ready to grow and take on big challenges."