5-Gauge Cluster PentaFlex™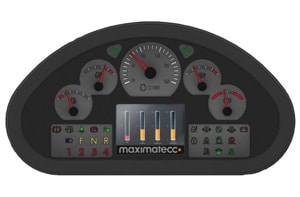 PentaFlex is a ruggedized 5-instrument cluster, ideal for large industrial & specialty vehicles. The unit offers CAN (J1939) connectivity with a full-size speedometer or tachometer, four additional gauges, and 27 status indicators.
The unit is sealed to IP67 and is compliant to SAE standards for vibration and shock.
Standard Configuration:
Tachometer (mag pick-up / alternator / CAN)
Gauges (resistive / voltage / CAN)
Status Indicators : 27
LCD : 3.5" WQVGA