maxAI™ 430i & maxAI™ 430iv Advanced Instrumentation
The new maxAI 430i engine monitoring system from maximatecc combines a vibrant 4.3" TFT display and 20 LED telltales to display engine parameters, warnings, and system messages within a sleek, compact design. Backlit buttons simplify Tier 4 Control and GUI navigation for optimal flexibility and performance.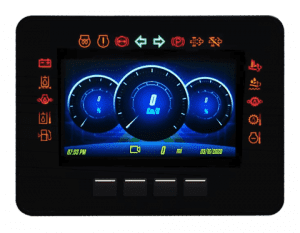 Features:
Primary Engine Monitoring using 2x CAN channels and 5x analog inputs

250/500 kbps auto baud rate detection
Fast boot time (<3s)

Designed for use inside or outside the cab

4.3" TFT display with 480 x 272 resolution
Wide viewing angles and 18-bit color for vibrant graphics
-20°C to 70°C operating temperature
Sealed construction (IP67 / IP65)

Integrated 20x LED warning lights with deadfront, black lens

Eliminates the need for separate warning light banks

Tier 4 final with active regeneration
Displays up to 5 screens, each with 5 parameters and associated information
Configurable application software for display screen and warning light setup without the need for programming
Contact maximatecc for applications requiring full customization
The maximatecc maxAI 430i engine monitoring system will change the way you look at things...for the better.
Complete the form below to begin our MaxAI conversation.