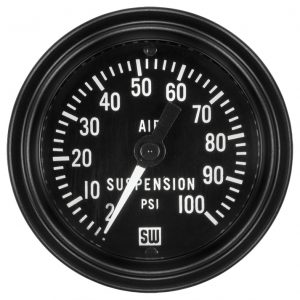 Deluxe Air Suspension Pressure Gauge: P/N 82396
Scale: 2-100 PSI, Ø: 2-1/16″, Type: Mechanical *1.
Contact maximatecc about P/N #82396
Specification
P/N:
82396
Type:
Pressure
Type Description:
Pressure Gauge – Air Suspension (mechanical)
Scale:
2-100 PSI
Diameter, in:
2-1/16"
Bezel/Finish:
Black
Product Family:
Deluxe
Brand:
Stewart-Warner
Notes:
Use tubing kit P/N 82553-F (6') or 366HM-F (16') with mechanical pressure gauges.



This unit is a fully sealed gauge and can not be used with a light kit.